Recertification with TestDataPro
Field testing of cabling is an important task in ensuring quality of networking infrastructure of a premise. It is, however, also a time-consuming, and sometimes time-critical task. Small mistakes like setting the wrong test standard during testing can turn out to be costly, involving re-testing and even loss of credibility. Being able to recertify test results to correct limit can alleviate this situation.
Recertification is the tool available in TestDataPro that allows the test result to be certified against correct limit without having to perform re-test in the field. TestDataPro offers the widest range of recertification capability of any tester in the industry with software version 4.2. For example, TestDataPro can recertify to higher limits, which is not supported by other certification testers. Selecting a lower limit than desired is a common mistake, and hence the ability to recertify up to a higher category is immensely helpful. Tables 1 lists the recertification capability of TestDataPro for Permanent Link tests, and Table 2 lists recertification capabilities of other certification testers in the market. Table 3 and Table 4 provide similar comparisons for Channel limits.




Why AEM TestDataPro Can Uniquely Recertify Up to Higher Test Standards
Recertification is done on already measured data from the original test. It is only possible to recertify to a new limit if the measurement data required for testing against the new limit is already available. The most crucial factor to consider is the frequency range. For CAT5e/Class D cabling, RF parameters are specified up to 100MHz. For CAT6, up to 250 MHz. And for CAT6A, up to 500 MHz.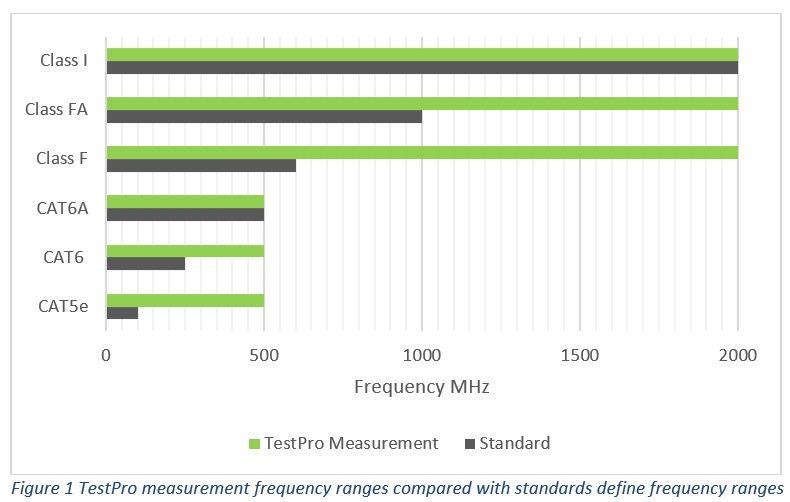 If a field tester performs measurements only according to requirement of the standard selected at the time of testing, the test may not have sufficient information to be able to recertify that test to a higher standard. For example, if CAT6 standard was selected during test, and if the tester did not measure all the way to 500MHz (because CAT6 only needs 250MHz), this test later cannot be recertified to CAT6A. Most of the field cable certification testers in the market suffer from this limitation. Fortunately, AEM TestPro does not have this limitation. In TestPro, measurements are performed all the way to 500MHz even if the standard selected during testing happens to be CAT 5e or CAT 6 (see Figure 1). This means, with TestDataPro report management software, you can recertify an original CAT 6 test to CAT 6A limits.
In conclusion, recertification is extremely useful and saves unnecessary spending of time and money. With TestPro, you can get the widest range of recertification capability, which insures you against more field mistakes than any other tester in the market.
Click here to see a video of Recertification in action!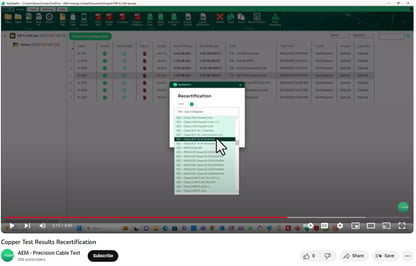 Other Articles

Many cable install professionals are under the false impression that a cable tester only needs to...